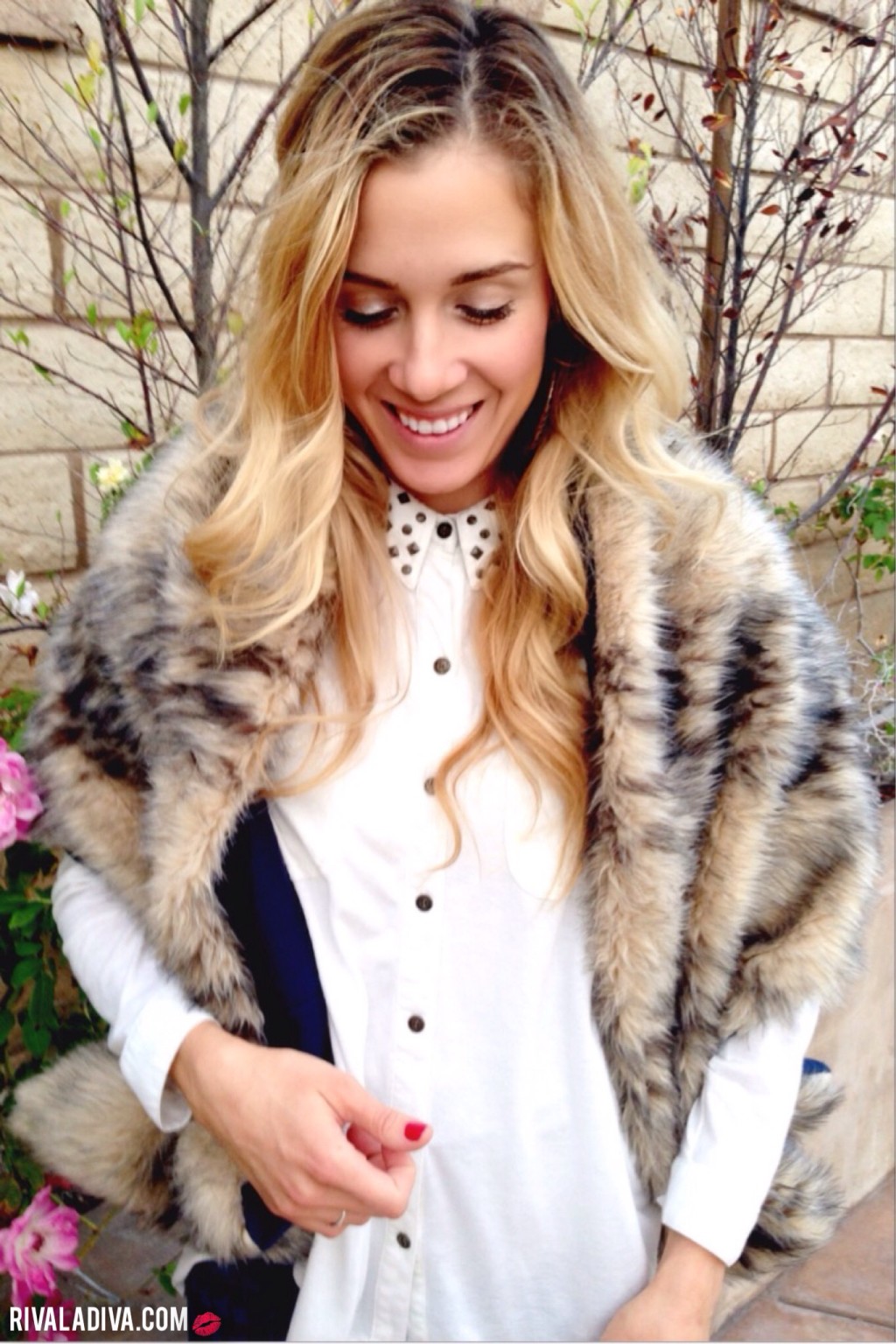 Faux Fur Scarf Tutorial
Faux Fur Scarf Tutorial
---
So okay,
whenever my husband leaves town for work and I have some projects to complete around here, I watch movies.
Well actually, I watch one movie and have this habit of watching it on repeat.
I love a good rom-com because my life is already too serious as it, you know, with my gorgeous 4 babies and all,
and so, I love to escape to someplace happy and ridiculous.
There is something very soothing about that sort of thing at the end of the day.
Lately, I have been on a Miss Pettigrew Lives for a Day kick and oh my goodness, I OBSESSED with that fashion era.
The tailored cuts, the body conscious designs, and the fur accents, so dreamy!!
Amy Adams is a DOLL as Delysia Lafosse, fast forward to exactly 1:03 minutes on the YouTube clip (HERE) and you will see why I am in LOVE with this week's tutorial.
With that said, I do love a good faux fur and I love how affordable it is at the fabric stores when compared to real fur.
Fur is ALL over the runway this fall – coats, vests, scarves, you name it!
Sadly, LA is not cool cold enough for coats so I am focusing more on scarves today.
Designers like, Chadwick Bell (here, here, & here), Ana Sui (here, here, & here) and BCBG Max Azria (here), all have fabulous examples of how they've incorporated these scarves into their collection this season. Check them out.
They are AMAZING, right?
Honestly, I love these scarves. They are lined with fleece and a little wider than a regular scarf, so they have that blanket scarf feeling, they look glamorous, and they are incredibly functional because they are so warm and cozy!!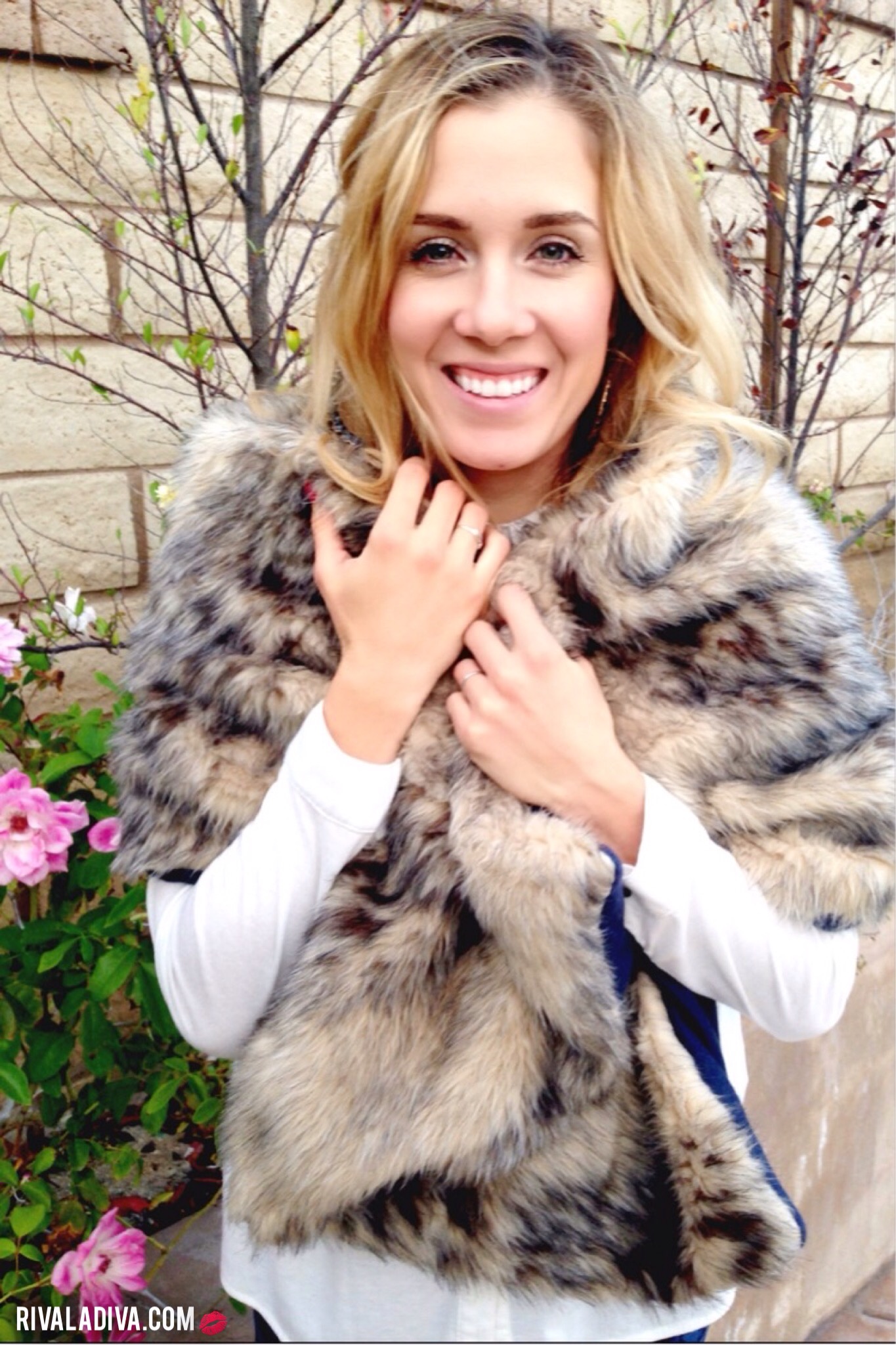 Trust me, YOU NEED to make your own and the best part?
They are simple to make! Fur can get a little scary if you haven't done it before, but this scarf is a piece of cake.
To make  a Faux Fur Scarf you need to buy,
Faux fur, buy 1/3 – 1/2 yards that's more than 50″ wide.
If the width is shorter, than you will need to buy twice the amount.
Cut in half so you have two pieces, sew the two ends together to create one long scarf,
Fleece, follow same notes above,
Matching thread,
and a Hand-sewing needle.
To make  a Faux Fur Scarf you will need to…
True the size, making sure your fur is exactly and evenly your desired width. I may have to trim the long sides a little to make sure my scarf looks rectangular, here's why…
The people cutting the fabric will not always cut the fabric evenly, you might realize this as soon as you lay out the fabric at home.
To prevent this, you can always speak up while they are cutting and tell them that it's important the fabric is evenly your desired width throughout the length of your fur choice or just trim it at home. This takes a minute, no biggie.
Do the same with your fleece AND make sure your fleece is identical in length and and slightly more narrow in width, as your fur.
Pin right sides together,



notice the fur is facing down on to the fleece.


Using a sewing machine, sew all around the ends of your scarf EXCEPT for a 6-8″ hole/opening so your can turn your scarf right side out.


Once you turn your scarf right side out through that 6-8″ hole/opening, you want to hand sew it shut. Use whatever stitch you like because the nap of the fur will hide the stitches, so it doesn't have to be perfect or pretty.  Just securely close that hole.
Now your Faux Fur Scarf is complete!
So when do you wear you this, one may ask?
WHEN do you not wear it? Dressy or causal, it all works!
I dare you to work it on your way to the gym, ha!
I may have to Instagram that make it work moment, it can work. hehe
Additionally, the wider the scarf the better because it totally has an awesome blanket scarf quality to it and it's warm,
so you don't even have to commit to a jacket some days!
**Some tutorials will ask you to trim the fur along your seam line, I did for the tan fur and did not for the black fur. While trimming, I had fur EVERYWHERE.
I did not notice a HUGE difference in the final product especially as it is just a scarf. So long as your fur is not CRAZY long, I think you should be fine. Especially if you cut your fleece a little more narrow, length-wise, than your fur – that way, the fur will turn under and you are less likely to see the seam from the outside.
Awesome, right?
So for your next girls night,
get everyone together (make sure at least one of you knows how to sew or invite a new friend that sews to the group – straightlines are all you need,
so my non-sewers reading can TOTALLY do this),
buy your fur and fleece,
drink something yummy out of your favorite glass (Mio and Mineral soda is the BOMB),
pick up Miss Pettigrew Lives for a Day,
and make those those fur scarves!
Until then, I will be waiting for cooler weather (SoCal is getting back to the 80's this week), thanks for stopping by, and have a glamorous day!